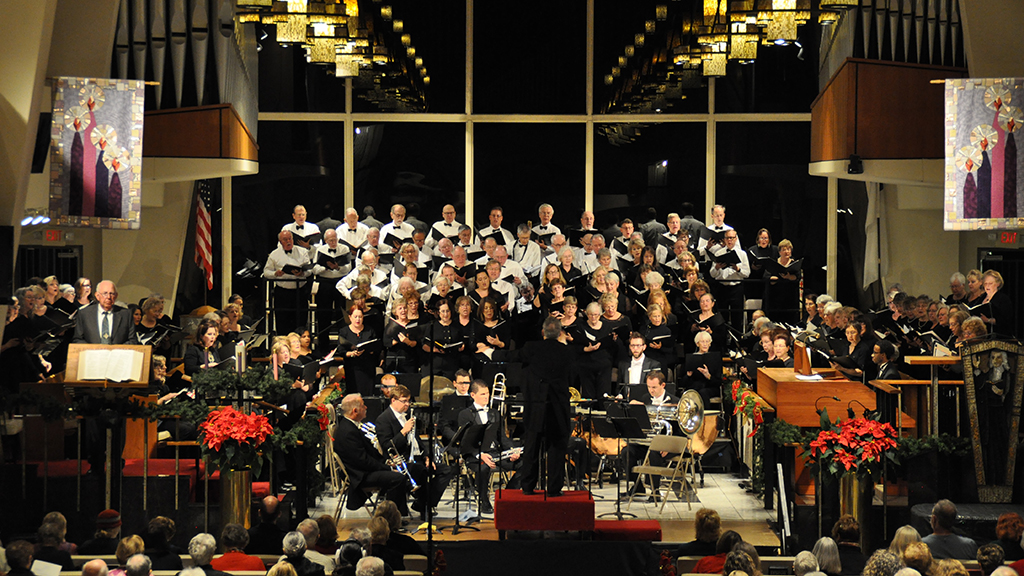 The Cultural Events Committee cordially invites you to attend our annual Advent Choral Concert on Sunday, December 8 at 7 PM in the Sanctuary.
The 160-voice combined Chancel Choir and Masterwork Chorale, Carolyne DalMonte, soprano, Patricia McAfee, mezzo-soprano, members and friends of the San Diego Symphony and Jaebon Hwang, organist, under the direction of Stanley M. Wicks, will perform four Winter Songs by Ola Gjeilo and John Rutter's Magnificat.
Ola Gjeilo (b. 1978), Norwegian-born composer now living in New York City, has written several works for choir, solo piano and piano and strings. The four Winter Songs, performed here at First Church for the first time, are musical settings of two medieval Latin hymns (Ecce novum and O magnum mysterium), a Norwegian carol (Det hev ei rose sprunge, derived from the original German carol, Es ist ein Ros entsprungen) which will be sung in English as A Spotless Rose, and Christina Rosetti's poem The Rose.
British composer John Rutter(b. 1945) is well-known to American audiences in churches and concert halls with his large opus of short choral works, choral collections and major works. The Magnificat, first performed at First Church under the direction of former Music Director, Robert Cooper, in 1992, with subsequent performances in 1997, 2005 and 2012, dramatically portrays the Song of Mary from Luke's Gospel narrative as Mary's response that she was to give birth to the Son of God.
We will celebrate the Masterwork Chorale's 50thanniversary at this concert. Founded in 1969 by Robert Cooper as the Hoover Adult Chorale, while Robert was the Choral Director at Hoover High School, it was renamed the Hoover Masterwork Chorale and moved to our campus when he was hired as the Director of Music at First Church in 1972. The name changed to simply Masterwork Chorale in 1978. Stanley M. Wicks became the second director upon his arrival at First Church in 1998. The Masterwork Chorale is a non-auditioned church-based community choir with a mission of performing large choral/orchestral works for the artistic enrichment of greater San Diego. For more information about the Masterwork Chorale, please visit https://www.fumcsd.org/worship/music-ministry/masterwork-chorale/
A free-will offering will be received during intermission and childcare is available by RSVP to the church office: 619-297-4366.
For those who are not able to attend Sunday evening's performance, you are welcome to come to our open rehearsal on Saturday, December 7 at 2 PM.
For more information about our Cultural Events Music Series concerts, click here