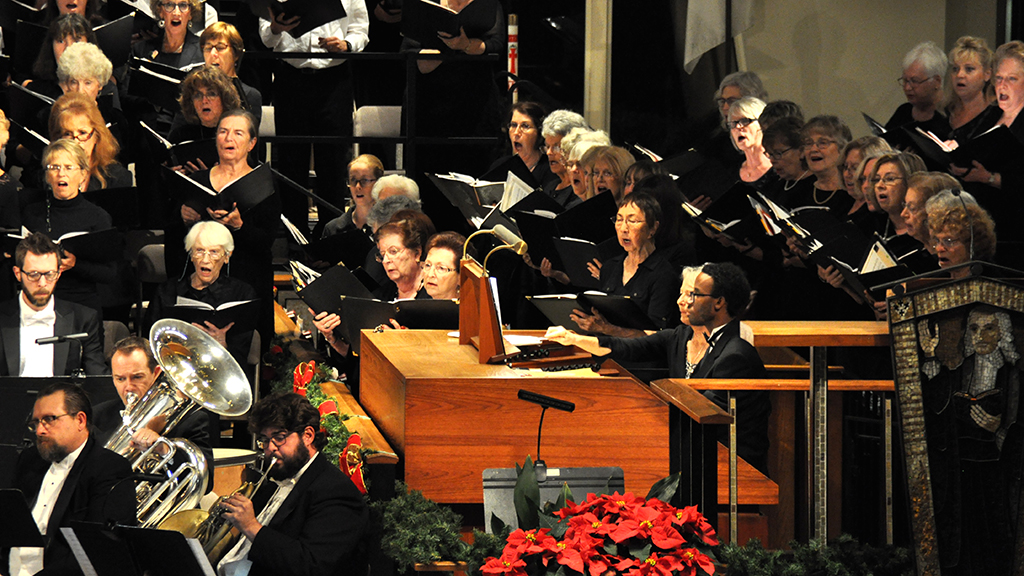 Mark your calendars for our annual Advent Choral Concert, Sunday, December 3 at 7 PM in our Sanctuary.
This concert is an all-Baroque program featuring works by Johann Sebastian Bach and Antonio Vivaldi.
The 170-voice combined Chancel Choir and Masterwork Chorale will join forces with our Vocal Quartet and members and friends of the San Diego Symphony to perform Bach's "Magnificat in D," "Cantata 63: Christen ätzet diesen Tag" ("Christians etch this day") and Vivaldi's "Gloria."
More about the music
This may very well be San Diego's premier performance of "Cantata 63," written for Christmas Day worship either in Weimar or Leipzig, Germany (scholars do not agree as to what year the work was composed).
The orchestration is scored in a rather unusual way, above and beyond the normal "festive" baroque orchestra, with three oboes and four trumpets. His "Magnificat in D," a favorite of singers and audiences alike, has been performed at First Church three times in the past: 1979, 2000 and 2011.
The work was originally written in the key of E-flat major during Bach's first year (1723) as Cantor of the St. Thomas Church in Leipzig. He re-worked the score in 1733, transposing it to the key of D to accommodate the addition of the trumpet parts. The more intimate "Gloria" by Vivaldi was originally written to be performed by singers from a girls' orphanage in Venice, Italy.
A free-will offering will be received.
Childcare is available by RSVP to the church office: 619-297-4366.
For those who cannot attend the evening concert, you are cordially invited to attend our open rehearsal on Saturday, December 2 at 2 PM.