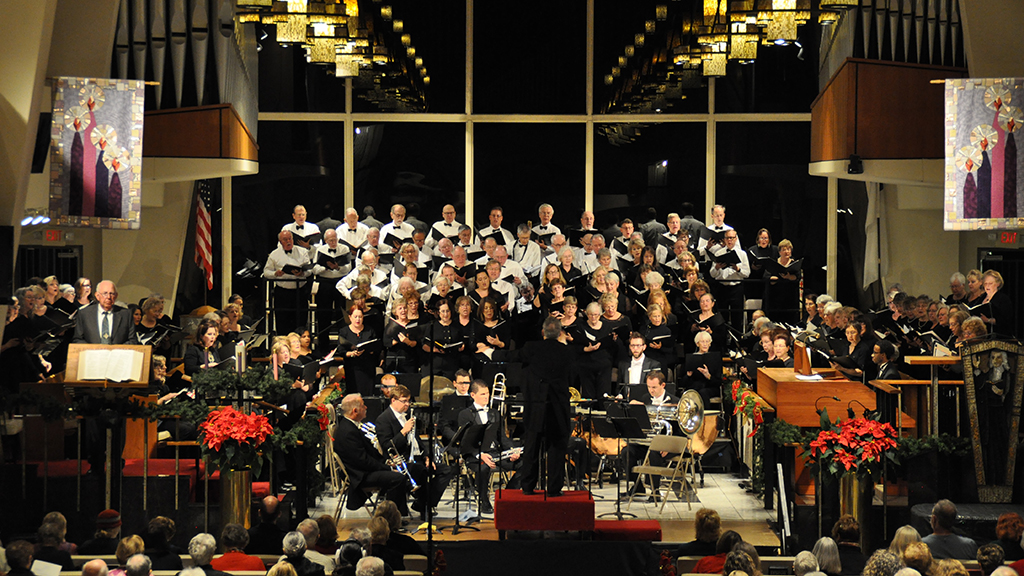 Now is the time to join one of our Adult Choirs at First Church. There is no audition required to participate. An international tour to sing in Florence, Italy is being offered to all adult singers and their guests in June 2018.

Our Chancel Choir sings at all three of our Sanctuary worship services each Sunday from September through June. They rehearse on Thursday evenings from 7-9 PM in the Sutherland Family Music Center. The first rehearsal will be held on September 7. There is an alternative rehearsal on Sunday mornings from 8:15-9 AM for those who are unable to attend during the week.
An annual Choir Advance is held each year on Coronado Beach to look at our new music for the fall season. This year's Advance will be held on Saturday, September 23 from 8:30 AM -1:30 PM, which includes breakfast snacks and a potluck lunch. During our concert season, for those who wish to participate, we rehearse that music during the final half hour on Thursday evenings in order to perform with the Masterwork Chorale for the two choral/orchestral concerts offered each year.
Our Contemporary Singers sing at the 9:30 and 11 AM worship services approximately once per month from September through June. They rehearse on Tuesday evenings from 6:30-7:20 PM in the Music Center, beginning September 5. Some of the singers stay after and sing with the Masterwork Chorale in order to participate in our choral/orchestral concerts.
The Contemporary Singers will be performing John Jergenson's "Dixieland Mass," accompanied by a Dixieland Band, for World Communion Sunday on October 1. They normally perform seasonal music at a local retirement community during December and upon occasion take a weekend choir tour in the late spring somewhere in Southern California or Arizona.

Our Masterwork Chorale, which is our resident community choir, sings for our two annual choral/orchestral concerts. They rehearse on Tuesday evenings, seasonally, from 7:30-9 PM in the Music Center. There is a $50 registration fee and each singer purchases their own music. Registration may be done online or at the first two rehearsals. Rehearsals for our Advent Choral Concert (performance on December 3) begin on September 12. Our Choirs and Vocal Quartet will perform Bach's Magnificat and Cantata 63 along with Vivaldi's Gloria, accompanied by members of the San Diego Symphony. The Soprano and Alto sections of the Masterwork Chorale are filled to capacity with a small waiting list. There are still openings for Tenors and Basses.

For more information, please visit our Music Ministry page... or email Dr. Stanley M. Wicks, Director of Worship, Music and the Arts, for more information, including details about the tour to Florence, Italy.