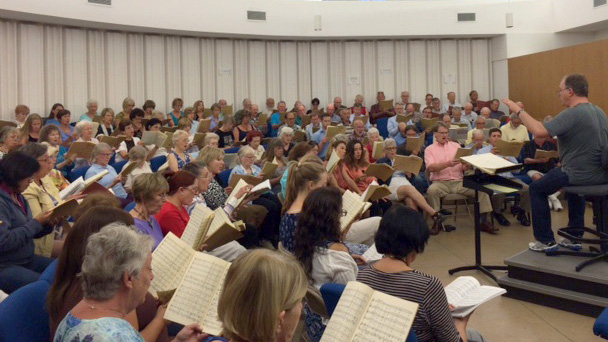 Join us for the annual First Church's "Summer Sings" series will kick off on Wednesday, June 21 with Stan Wicks conducting Antonio Vivaldi's Gloria and Magnificat at 7 PM in the Music Center.
Based on the popular Messiah sing-alongs, these four Wednesday evening summer sings represent an opportunity for community singers to learn a new work, sing an old favorite, practice your sight-reading or work with a special conductor.
There is no preparation for these "sings"; just come and enjoy! Four distinguished musicians will lead the summer sings; dress is casual and listeners are welcome.
To participate: the cost is $15 per sing ($50 for a "season ticket" for all four) which includes a loaner score and refreshments. Students and listeners are free.
Registration will take place beginning at 6:15 PM in the sanctuary narthex adjacent to the music center. Note the registration on June 21 is moved to Trotter Chapel.
Singers will rehearse from 7:00-8:15 PM, take a refreshment break and then present the evening's musical work "in concert".
All are invited. For further information, contact Katie Englund at

Summer Sings 2017

Wednesday, June 21, 7 PM
VIVALDI: Gloria & Magnificat
Dr. Stan Wicks, conductor (Director of Music, First United Methodist Church of San Diego; Director of the Masterwork Chorale)

Wednesday, July 5, 7 PM
HAYDN: Lord Nelson Mass
Dr. Keith Pedersen, conductor (Professor of Music, Point Loma Nazarene University; Director of Choral Ministries, La Jolla Presbyterian Church)

Wednesday, July 19, 7 PM
MENDELSSOHN: Psalm 42
Dr. Emilie Amrein, conductor (Assistant Professor of Choral Studies, University of San Diego; Director of Music Ministries, San Dieguito United Methodist Church)

Wednesday, August 2, 7 PM
Haydn: The Creation
Dr. William Hatcher, conductor (Former Director of Music Ministries, San Dieguito United Methodist Church; Professor of Music Emeritus, University of Iowa)

For more information contact Dr. Stan Wicks, First United Methodist Church of San Diego, 619-297-4366, ext. 135 or email: Katie Englund at