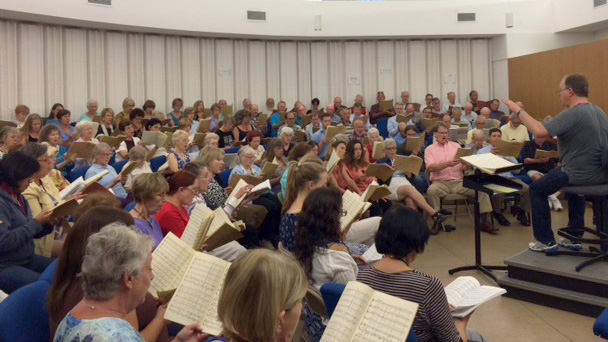 First Church presents Summer Sings 2018
JOIN THE CHORUS!
Based on the popular Messiah sing-along, these four Summer Sings represent an opportunity for community singers to learn a new work, sing an old favorite, practice your sight-reading or work with a special conductor. There is no preparation for these "sings"; just come and enjoy!
Four distinguished musicians will lead the Summer Sings, which consist of rehearsal followed by a break and then an informal performance. Dress is casual. Listeners are welcome.
Wednesday, June 27 | 7 PM | ELLINGBOE: Requiem
Dr. Stan Wicks, conductor (Director of Music, First United Methodist Church of San Diego; Director of the Masterwork Chorale)
Wednesday, July 11 | 7 PM | PUCCINI: Missa di Gloria
Dr. John Russell, conductor (Music Director, San Diego Master Chorale; Director of Choral & Vocal Studies, Palomar College)
Wednesday, July 25 | 7 PM | BRUCKNER/HAYES: Te Deums
Dr. Keith Pedersen, conductor (Professor of Music, Point Loma Nazarene University; Director of Choral Ministries, La Jolla Presbyterian Church)
Wednesday, August 8 | 7 PM | LAURIDSEN: Lux Aeterna
Juan Acosta, conductor (Associate Artistic Director, Sacra/Profana; Director of Music Ministries, The Village Community Presbyterian Church)
Works and conductors subject to change
Admission to each Sing is $15, which includes a loaner score and refreshments.
Students through college (age 25): FREE
Admission for listeners: FREE
Reservations are not necessary
Buy a "season ticket" to all four sings for only $50 on June 27.

For more information, contact Dr. Stan Wicks, First United Methodist Church of San Diego
619-297-4366, ext. 135 or email Katie Englund
All Sings will be held in the Sutherland Music Center choir room at First Church in Mission Valley from 7-9:15 PM
A refreshment break will be offered at each sing.
Registration and music distribution will take place prior to each Sing beginning at 6:15 PM in the
adjacent sanctuary foyer.
Plenty of free parking in the various church lots—please lock your car!