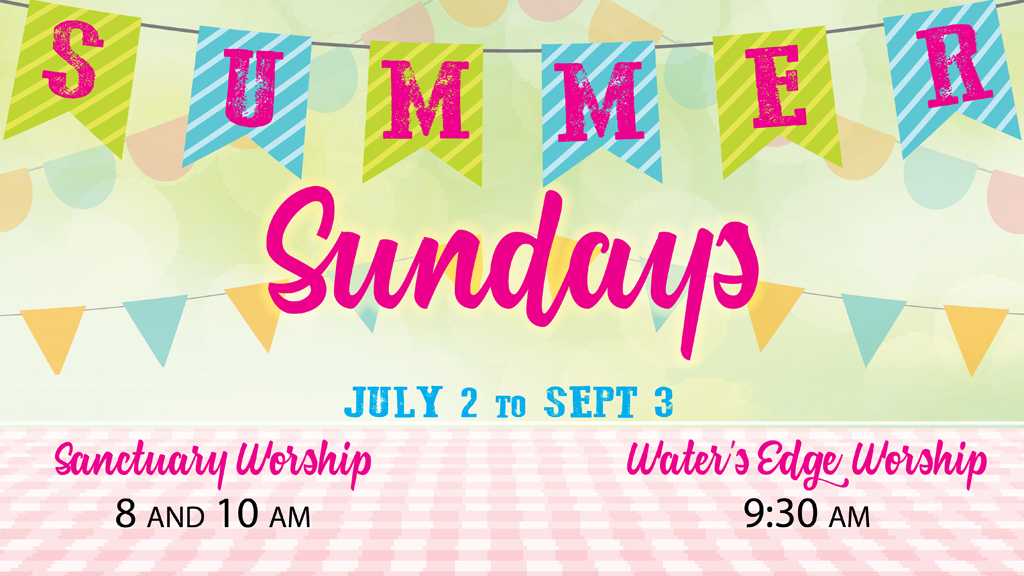 Summer Sundays at First Church will be a time to remember, bringing new opportunities for fellowship and fun!

Worship
JULY 2 - SEPTEMBER 3
During the hot summer months, we move from three to two worship services in the Sanctuary:
8 AM - Communion every Sunday
10 AM - Regular worship with Communion 1st Sunday of the month.
This schedule is only in effect for the summer months beginning July 2 and ending September 3.
Water's Edge Worship in the Cove remains at the regular 9:30 AM time.

Bible Study
JULY 2 - SEPTEMBER 3 | 9:05 - 9:55 AM | LINDER HALL 2
Join this Sunday Morning Bible Study led by Luke Winslow, who is part of our First Church community, along with his wife, Addie. Luke is on the faculty in the School of Communications at San Diego State University. The study is not sequential, so you can attend as your schedule allows!

Carver Cossey Mini-Concert & Lunch
JULY 9 | 11 AM - 12:30 PM | LINDER HALL

Our special guest, Carver Cossey, helps kick off our summer schedule. Carver will lead the congregation in song during our Sanctuary Worship and then, together with our own Stephen Price, perform a mini-concert in Linder Hall with a catered lunch.

Country Fair
JULY 23 | 11 AM | LINDER HALL

What could be better than a church potluck and ice cream social during the warm days of July? Join us for worship and bring a dish to share at the all-church potluck following the 10 AM worship service. Ice cream and all the toppings will be provided. Our Country Fair will include a pie-baking contest, with prizes given for first, second, and third place. A line-dancing lesson, plus fun games for all ages.

Beat the Heat
AUGUST 20 | 11 AM | THE PLAZA

Celebrate "Splash Days" with our Children's Ministry! The plaza will be filled with water games and fun for young and old alike. Pizza for everyone (!) as we share in the fun on a beautiful summer morning.

Field Trip and Picnic at the Border Church
SEPTEMBER 3 | 11:30 AM - 3 PM
Join Rev. Fanestil and friends as we carpool from First Church to Friendship Park, enjoy a picnic lunch together, and join in this unique bi-national celebration. This is a family-friendly and disability-friendly event: children and persons with mobility limitations will be able to participate fully. Bring a brown-bag lunch and drink, sun hat, sunscreen, and dress comfortably for warm weather.
Details and RSVP by August 20