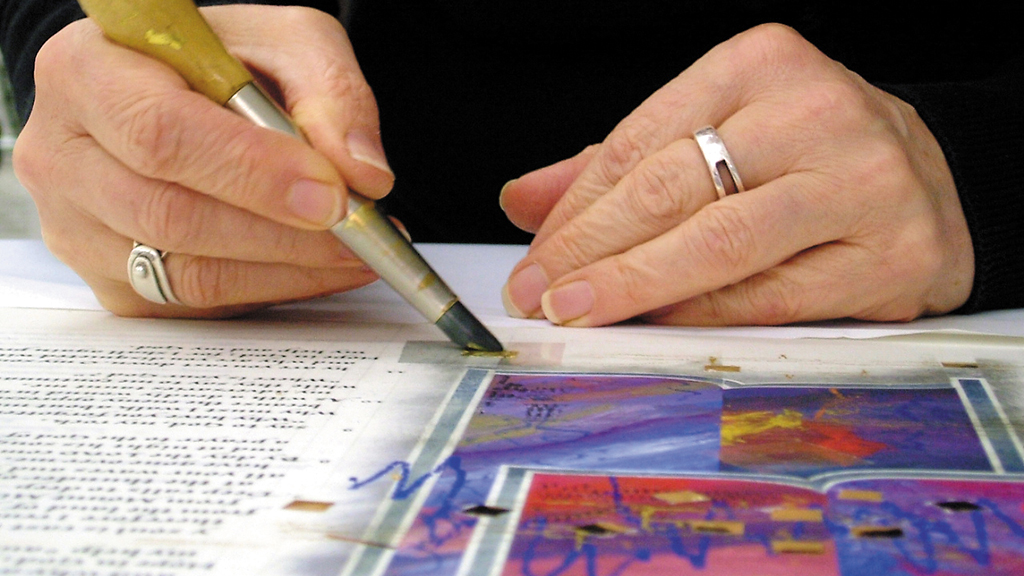 The Saint John's Bible Print Exhibition, the work of renowned calligrapher Donald Jackson, is a 21st-century expression of an ancient Christian tradition - a hand-written, hand-illuminated Bible.
Viewing
October 1 - November 5
Location: Trotter Chapel
Cost: FREE
Fridays: 1-5 PM
Saturdays: 10 AM - 4 PM
Sundays: 9 AM - 1 PM

Come enjoy 25 of these extraordinary prints that will be on display. Our docents will also share with you, if you wish, a short video chronicling the remarkable story of the St. John's Bible.
On Sundays, October 8 and November 5, join us for free lectures by Dr. Elizabeth Morrison of the Getty Museum, and Dr. Lori-Anne Ferrell of Claremont Graduate University, world-class scholars who will teach us more about the role that exquisitely-crafted Bibles played in the devotional lives of Christians across the ages.


For the San Diego School of Christian Studies,
Rev. John Fanestil, Ph.D.
Dean
PHOTO ABOVE: Sally Mae Joseph applies gesso over a frisket stencil in preparation for the gilding of the small squares and rectangles which appear throughout the book of Psalms. Once the gesso has dried and the gold has been laid and burnished, the frisket is pulled away, leaving perfectly sharp edges. This new technique gives Sally tremendous control gilding the geometric shapes.
Photo Credit:
Copyright Derek Evan, HUW Evans Agency, Cardiff, Wales