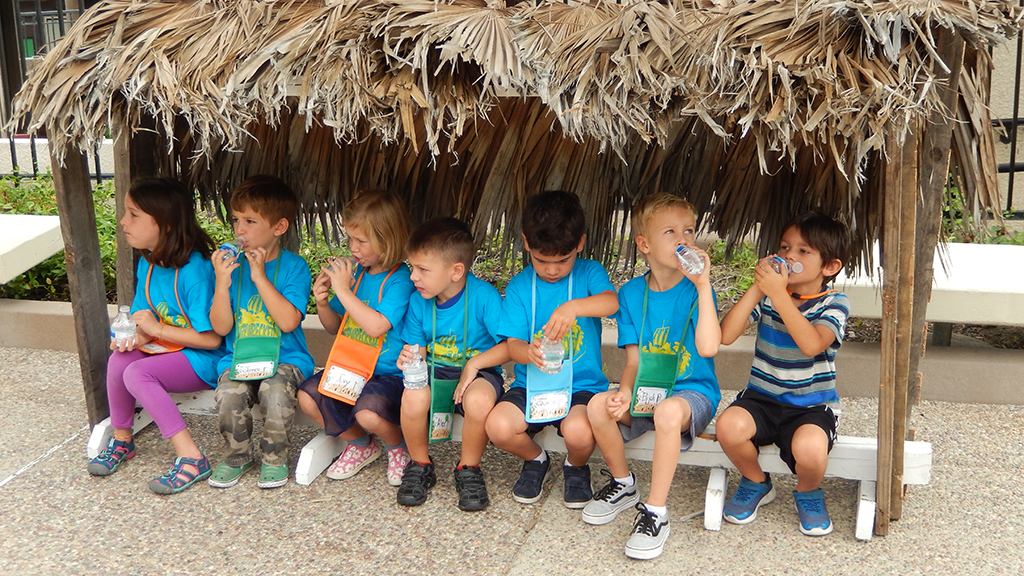 Parent comment: "Our son was Shipwrecked for a week before he was rescued. Mr. Kenton and his team did a wonderful job- the messages and decorations were awesome. The kids made a sail with all of the things they were afraid of on it (my personal fav was flowers), and they learned about all the ways Jesus keeps on rescuing us."
VBS 2018 (held at First Church on the Mission Valley Campus) concluded on Friday, July 20. This year's Shipwrecked: Jesus Rescues theme was a hit for our campers! Each day the students made their way through four exciting tropical stations. The stations included Bible Adventures (stories, interactive games and ad-lib acting), Imagination Station (creating & investigating underwater creatures, fun science activities and tactile learning), Arts & Crafts, and an action-packed Games station (obstacle courses, sand searches, tug-of-war, coconut bowling). The station leaders and helpers were awesome!
We had about 80 campers, ages 3-7, who all marvelled at how Linder Hall and adjoining classrooms were transformed into underwater scenes. The children sang and danced each morning along with their Crew Leaders. The Crew Leaders and teachers from CGC were an integral part of the learning throughout the week. Children could be heard throughout the church campus yelling, "Jesus Rescues!"
Thank you volunteers!
Kenton Reaves Hundley, Director of Discipleship for Children and Youth, along with Priscilla Venegas, Interim Director of Children's Ministries, were amazed at the outpouring of time and dedication from the volunteers. Volunteers helped both on campus as well as out in the community to help set up for an amazing week. We were blessed to receive help from some of our most dedicated Sunday School teachers, Kids First parents, and perhaps most impressively, from several of our Kids First and Students First youngsters! We had help from volunteers as young as eight years old, and even got help from a couple of kids visiting from out of town! We were indeed recipients of God's blessings over the course of VBS 2018.
See our photo album on First Church Facebook page...