Wednesday, June 12, 2019, 12:15 PM - 1:00 PM
Come listen to our pipes!
We invite you to take a 45-minute break in your busy day. Sit down, relax and enjoy the beautiful music played on
a 108-rank, 4-manual Blackinton and Associates Pipe Organ, the largest pipe organ in San Diego County.
SECOND WEDNESDAY OF THE MONTH
12:15 - 1 PM
FIRST CHURCH IN MISSION VALLEY
Each month you'll have a chance to listen to a different organist play a 45-minute free organ concert.
JOIN US FOR LUNCH BEFORE THE CONCERTS
11:30 AM | Linder Hall
We offer a hot, healthy affordable ($8) lunch, served cafeteria style (with assistance as needed)
RSVP by noon on the Monday preceding the concert to or by calling 619-297-4366.
June 12, 2019
Nicholas Halbert
M.M. in Organ Performance, Southern Methodist University, Dallas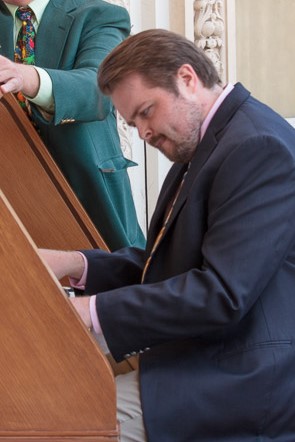 Nicholas Halbert has been immersed in the tradition of sacred music since the age of 8, when he began singing as a Boy Chorister at St. Paul's Cathedral, San Diego. At the age of 16, he was appointed the Organ Scholar there, and became the principal accompanist for all of the Cathedral choirs, an experience comparable to the training of many English organists. After two years in that post, Nicholas Halbert went to the Eastman School of Music where he studied organ under Nathan Laube and fortepiano and harpsichord with Edoardo Bellotti. While at Eastman, he also wrote a senior thesis on the intersection between modern political thought and the world of classical music. Nicholas is now enrolled in the Master's of Music program at SMU, studying organ with Stefan Engels and conducting with Paul Phillips. Beyond playing the organ, Nicholas is constantly developing his skills as a vocalist and a choral conductor. He loves when he can return to San Diego, and can usually be found either body-surfing at O.B. or giving night tours at the Whaley House.