Join Prayers & Squares Annual Fall Retreat
This year's retreat is taught by an expert quilter and teacher, Ruth Heinrichs. Ruth will lead us in making the "Double Square Star" pattern by Missouri Star Quilting Company. Watch a video tutorial above how to make this quilt.
The retreat will be held in Linder Hall on Friday, November 3, from 9 AM to 4 PM, and Saturday, November 4, from 9 AM to 2 PM. You can attend one day or both days, but we recommend attending both days. The cost is $15 per day and includes morning coffee, snacks, lunch, and door prizes.
In addition to our workshop leader we will have inspirational speakers at lunch each day. On Friday we will hear from Pastor John Fanestil. Bob Plimpton will return to speak to us at lunch on Saturday.
Learn to make the Double Square Star
This not a difficult pattern, but this workshop is for quilters who have made at least one quilt and have the basic knowledge of quilting. The pattern is designed for charm packs, but you can cut 5" squares from fabric you have in your stash if you prefer. We will be making a prayer quilt size quilt top using only 12 blocks. See the fabric requirements...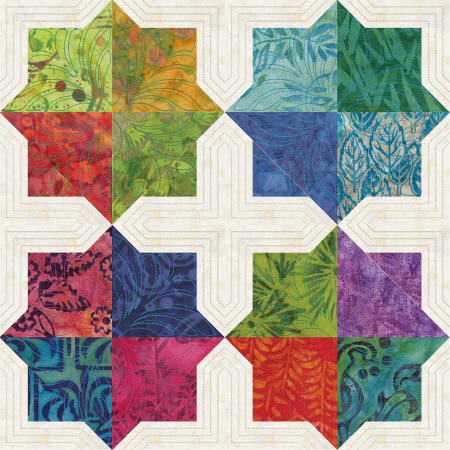 Even if you do not sew
If you prefer not to make a quilt top, you are welcome to come and help layer prayer quilts and put in the ties. If you started a prayer quilt at an earlier workshop, feel free to come and finish it at the retreat. There's always plenty to do at Prayers & Squares.
Learn about Prayers & Squares quilt ministry
Our workshops are always opportunities to learn a new pattern and acquire new skills, but they are also opportunities to learn about the Prayers & Squares Prayer Quilt Ministry. You will discover how we prepare those prayer quilts you see on the Chancel rail some Sundays. Our work is important, but we go about it with joy in our hearts. There will be plenty of time for fellowship with other quilters.
How To Register
Online... through October 29
In Person: Come to Linder Hall between services, Sundays October 22 and 29.
AND
Prayers & Squares meetings: October 7 and 19